Discussion Starter
·
#1
·
Saturday was a blast, i went to a local gun shoot in Washington. I brought along my MP 40c and 650 rounds of ammo. Out of the 650 I shot 450 rounds downrange, bringing my total count to 750 rounds. I had no major failures at all. Twice my slide locked open even when there were rounds still left in the magazine.
Edit - I forgot to mention that when someone else borrowed my gun to shoot off a clip he had a mag drop. But the guy was pretty green and i was sure he just hit the release button.
Another strange thing is my front sight white dot fell out! So now i just see a black front sight were the standard sight used to be. Looks like its time to upgrade to the night sights. Aside from my front dot popping out my gun has been of the good lot. No mag release problems, no rust issues, nothing. I am so happy with my gun it tickles me to death.
I am also improving my accuracy, towards the end i started being able to consistantly hit the steel plate at 10 yards. Next weekend i am taking a firearms safety course and i hope to pick up some more pointers on pistol grip and stuff.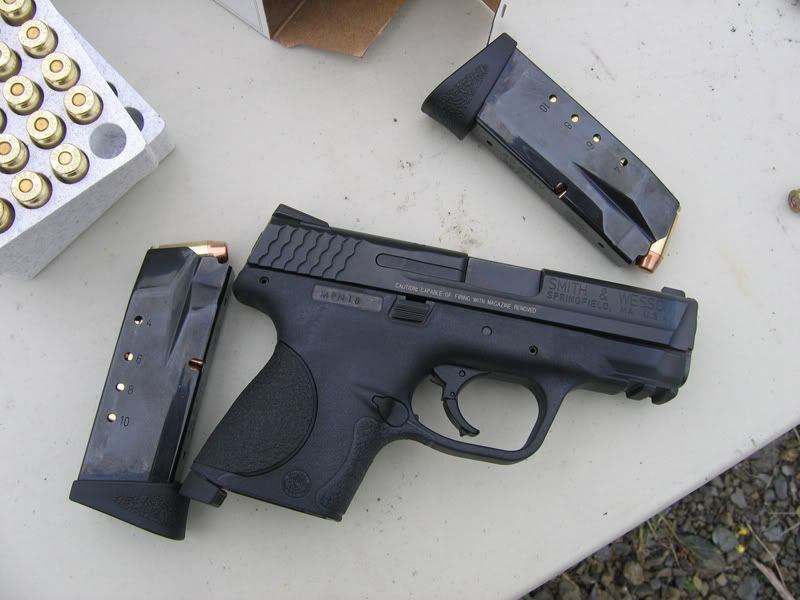 It was such a nice day i just had to practice my golf swing.