Discussion Starter
·
#1
·
I had struggled with whether or not to swap out the trigger on my M&P 2.0C 40S&W since soon after getting it.
I didnt have an issue with the trigger action or pull, not the best by far but certainly not the worst and the reset was nice if that sort of thing is important to you. So I just didnt hate it enough or think it impeded my ability to shot it well enough to spend money and time on it.
It was better than average for out of the box plastic gun triggers. However .. I came to detest the hinged trigger shoe.
For months I scoured the net .. ok .. I looked off and on and was shocked to see how little support there was for such an awesome gun. I think I found one place that had just a replacement trigger and in their quest to make the trigger action "improved" they did something with the geometry that meant the trigger spring was stretched so for me it was no go.
I kept reading about the Apex flatty and just couldnt bring myself to spend nearly $200. My issues werent $200 worth.
Then I found this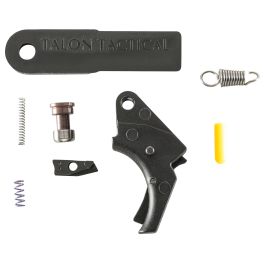 Action Enhancement Trigger Kit for M&P The Action Enhancement Trigger Kit is engineered to provide the M&P (9mm or .40S&W) pistol owner with a smooth, consistent 5.0 to 5.5 lbs. trigger pull with the advantages of shorter over-travel and shortened

www.apextactical.com
Still double what I wanted to spend on a trigger whose action I didnt hate but the trigger shoe had to go so found several of the kits with poly trigger on ebay at 113.00 plus tax and free shipping. The same kits with aluminum trigger are running $147 on ebay. I went with the poly.
Fairly easy install if you do it a section at a time and there are several videos available for reference.
ONE IMPORTANT THING TO NOTE .. The slide lock lever has to be IN PLACE before you drop the locking block in.
So outside of installing the pin for the lock block on reassembly and realizing I would have to pull the pins to put the slide lock lever in place ..not an issue. Pretty simple gun to work on.
Results! Alright .. I was happy with the action before so didnt know what all the "extra" bits were going to give me but .. I am here to tell you its pretty amazing. one downside is the reset doesnt have the same resounding "Thwack" but outside of that .. it is a vast improvement over the stock action and I am thrilled to be rid of the hinged trigger. The reset now is seemingly right off the frame and there is no weird spongy pickup as you approuch the wall and while the take up isnt super short .. and I wouldn't want it to be on a carry gun .. it is significantly reduced. The break is still stiff and I actually prefer that on all my guns but it also is reduced. It just kind of snicks through. Its pretty sweet and makes my sub $500 gun feel like some of my more expensive handguns.
All in all .. the $113 was well spent and the kit was worth the money and easy to install with no special tools. It is different enough to make a difference in your shooting. Times are tough but if $113 wont break the bank and you have a 3/32 punch and optional brass punch to drift ... do it.