Discussion Starter
·
#1
·
Comp-Tac belt holster - $63
http://www.comp-tac.com/catalog/product_in...;products_id=66
Kytac Sooper Hooper - $64.50
http://www.kytac.com/page2.html
These are two very great belt holsters. They are very similar with only subtle differences.
The Comp-tac uses the indent at the front of the trigger guard to provide the click-in, click-out. The indent on the Kytac is very subtle and is across the entire trigger guard area.
The Kytac seems to have a slightly tighter fit throughout, not that I found the Comp-tac holster-to-pistol fit to sloppy in any way at all. Both feature double retention screws - the Comp-tac requiring a small allen key while the Kytac can be adjusted with a phillips head screwdriver.
Both holsters were made for a 1.5" belt, but I found the Kytac belt track to be slightly tighter. It was such a tight fit that it could be problematic for some belts. Both holsters had plently of room for even the thickest belts. The Comp-tac loop is wider on the belt and you would think this would make it more stable than the Kytac but there was not a notable difference.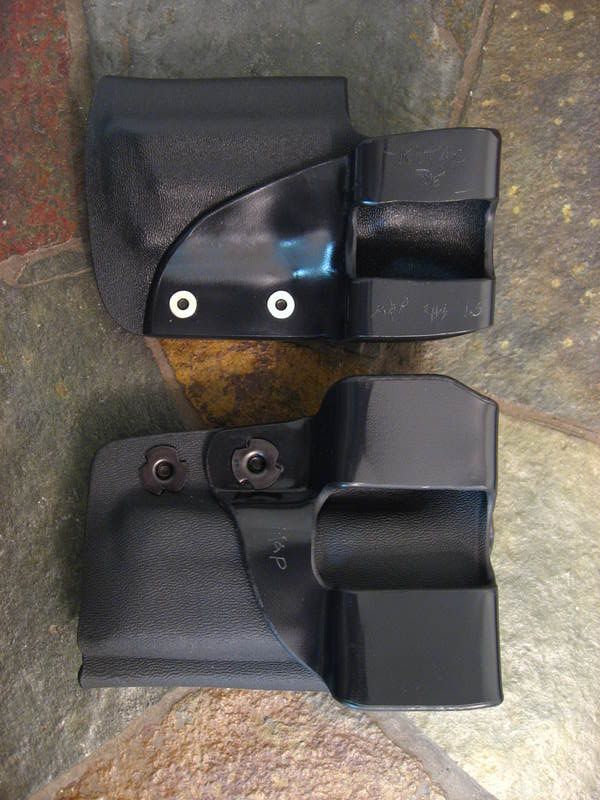 The Kytac rides further away from the body than the Comp-tac. Depending on a person's needs either could be preferable.
I have always been a Comp-Tac fan but I was very impressed with the Kytac holster. They are so close, I wouldn't give one the edge over the other, but others might put greater value in some the subtle differences. If you're looking for a high end kydex OWB belt holster, both the Kytac and Comp-Tac belt holsters are major players.
Thanks to YukonGlocker for lending me his Kytac holster.
ETA: Although Kytac makes a great product, they have really dropped the ball when it comes to order fulfillment. Buyer beware.