Discussion Starter
•
#1
•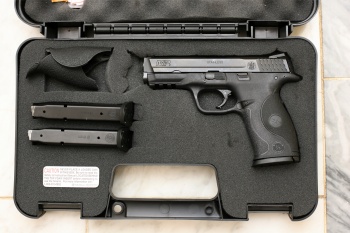 Started the 50,000-round, 6-month test today. A whopping 265 rounds without a stoppage, 200 124gr +p HST followed by 65 WWB. Whoo-hoo! Just 49,735 to go!
The gun:
S&W M&P9 full size, serial number MFP3xxx

mag disconnect (installed after receipt); no internal lock

Trijicon night sights (intend to replace with Warren when their night sights arrive)

three new improved 17rd magazines (more corrosion-resistant finish)

Crimson Trace Lasergrips

MA-compliant 10# trigger group 'smithed down to 6#

The gun actually arrived with the new lanyard loop grip tool for some reason. I didn't want or need it, so I gave it to one of the local S&W reps in exchange for a standard one. I know, I should have taken some photos first. Lame of me.
I'll be updating this thread regularly as milestones are reached.