Discussion Starter
·
#1
·
Since mcone did his M&P and XD review I figure I would throw in a similar steyr review also.
Comparison between M&P and Steyr both in 40cal
I'm a real steyr & glock fan and user. I've own glocks since 1992 and carried them on a regular based since relocating to a carry state (fl ) in 1999. With all of the glock vrs xd vrs m&P reviews, I figure I would thru in a M&P vs Steyr review in the 40sw calibers. Steyr has had a polymer based frame gun out for a while that get's vary limited reviews and even have produce their 2nd generation model.
Now I just recently bought a M&P and have to say I'm in love with it. It does have a few distraction one being the dreaded small slide stop and enagement is hard and harder with gloved hands. The tear down procedures are kinda strange but I do see S&W logic in avoiding the glock & former SW99 and the "pull" the trigger to tear down a gun. I'm sure they did new tear-down procedues to avoid a costly accidental discharge, by forcing the gun user to have a empty gun in order to tear down the weapon.
Here's my impressions after owning both pistols for a while:
BOTH Strengths:
Both pistols are glock alternatives that provides faster resets, better trigger pull and even a lower felt recoil. Their intro prices are in line with glocks prices and in both models a rail comes std.
M&P Strengths:
1 The finished of the slides seems to be better than the steyr but if so by a little bit.
2 The slide scale like serrations is unique and nice
3 various grips panels
4 metal drop free magazines
5 No passive safeties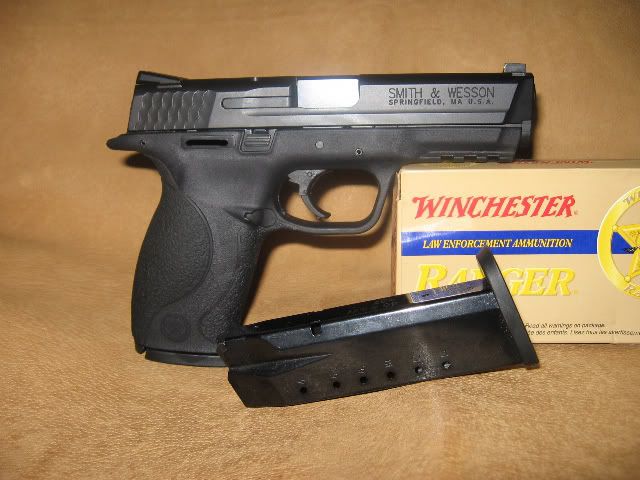 Steyr Strengths:
1 Loaded chamber indicator that works night or day and by feel.
2 Like the M&P it has metal drop free mags with plastic base to prevent shock when drop
3 Tear down of the steyr M series is just like a Beretta/SIG much simpler and quicker
4 Slide is even more lower profile than the M&P
5 Subjectively I think equal ammo used is less recoil in the steyr vrs the MP
6 It has 2 active safeties for those need to secure the gun even tho the pull down trigger has gave me problems twice now
7 magazine are much cheaper and seems to load easily at the end of the load count but this could be from my steyr being more used and broken in.
8 gun is slightly shorter in length than the M&P and no beaver tail
M&P weakness:
1 Factory grips texture is not as good as it could be without addons
2 Teardown is not as simple as other designs
3 Loaded chamber notch is a joke and useless at night
4 Std slide stop is difficult to enage
5 magazine disconnect
Steyr Weakness:
1 Mine and about 2 other people I know that have them has had problems with various components that exhibit after 2-8k rds ( and yes we shoot the hell out of ours )
2 Pistol Grip is slick and uncomfortable in rain or damp or sweating hands conditions.
3 Steyr support is no where as good as smith-wesson
4 Triangle sights are strange and takes some time to get used to.
5 No firing pin block as what found on a glock or m&p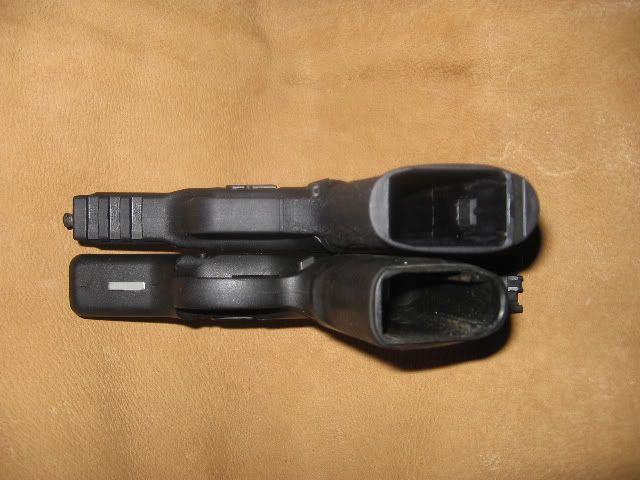 Here's some pictures of my 2 beasts. I will carry the M&P after I get some more rounds thru it and most likely sale the steyr off. It served it purpose and did a good to very-good job and only cost me $360.00 NIB 3 years back.