Discussion Starter
·
#1
·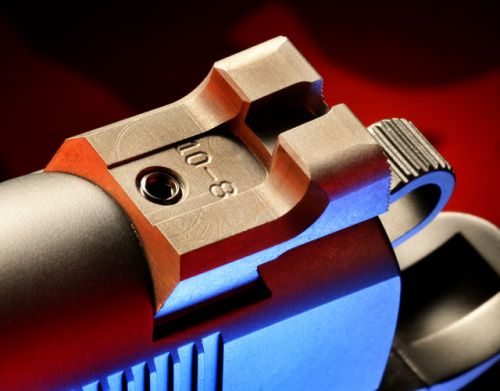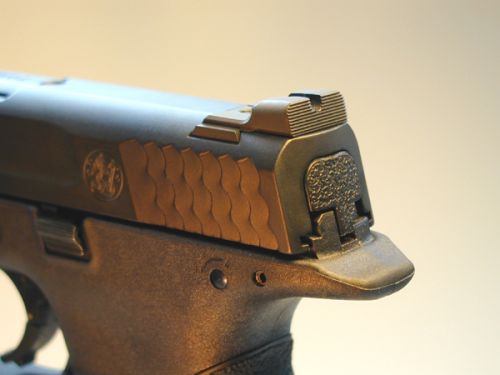 10-8 Performance Sight
10-8 Consulting is proud to present the 10-8 Performance Rear Sight. Designed by Hilton Yam, this sight incorporates a combination of unique features not found in any other production sight. While the unique appearance is what typically captures people's attention, this is truly an example of form meeting function. The rear blade of the sight has a flat angular surface which provides the user additional options of slide manipulations over sights designs that have a ramped front. The sight blade is thick enough to allow setting tritium vials in lengthwise (ie. as dots) if one so chooses. It is contoured and dehorned for comfortable handling and carry.



Precision CNC machined from heat treated 4140 bar stock, this rear sight is designed to withstand the rigors of hard duty use. Unlike rear sights machined from soft, free machining alloys, the hardened bar stock construction allows this sight to better resist the nicking and denting that is typical with the wear and tear of daily carry. It features a .125" x .125" U notch for fast alignment with tritium dot or gold bead front sights. The rear face is serrated at 40 lpi to reduce glare in varied lighting conditions. The sight features a plain black blade, finished in matte black manganese phosphate.
Introduction...
The Smith & Wesson M&P handguns are still new enough to market that not very many of the more recognizable manufacturers are producing sights for them yet. Other than Novak which OEMs the sights to Smith & Wesson, no other manufacturers have tritium night sights. In fact, supply from Novak is even so scarce that S&W is not selling the complete front/rear tritium sight set as upgrade pieces. The only piece you can buy through authorized S&W armorers is the front night sight.
I wasn't real pleased with the factory Novak sights -- am I ever pleased with factory sights? -- so I was searching for something to replace them with. I happened to stumble across the 10-8 Performance sights mentioned in a thread on the M&P Pistol forum so I took a chance and ordered one.
The 10-8 sight is a replacement rear sight only. It has no dots, just a U shaped channel or aperture, and has serrations to minimize if not eliminate glare.
The beauty of this system, to me, is that it gives you two less things to distract your eye from the front sight. No rear dots, just the simple U shaped channel. Your eye is immediately and naturally drawn to the front sight just as it should even with a three dot system. If you can see the dot in the "U" then you pull the trigger. It's that simple.
The only upgrade I anticipate doing at this point is ordering one of the factory Novak front tritium sight blades for each of our M&P handguns, and two more of the 10-8 sights for the two guns not already equipped.
Range Report...
I installed the 10-8 sight on my M&P 40 full-size by myself. No gunsmith needed. It was a simple task accomplished in my garage with a bench vice, some cardboard shims to protect the slide, a hex key and a jeweler's hammer. Total time to remove and replace was about 10 minutes, including time to round up the tools.
Tonight I got to take the M&P 40 out to the range and put 200 rounds through it. The gun had only had 100 rounds put through it previously, so it's still in the break-in period. But I'm happy to say that at 300 rounds total so far, there have been no failures of any kind. Great gun!
I took to the 10-8 sight immediately. There was no learning curve and it really is as simple as "see the front dot, press the trigger". My shots were exactly where I was aiming and it took no effort to blast the centers out of the Shoot N See targets. Very fun!
The Verdict...
I'm definitely ordering more of these for the other two M&P automatics. Hell I may even order one for my Kimber 1911. It only makes sense to have a standardized sighting system on all of the handguns right?
I can see why this sight design is so popular with competitive shooters, police and military operators. It does away with the three-dot system that tends to make your brain do a little too much thinking, and puts in it's place a system that appeals to our base lizard brains. Dot, hole, bang.
I'm impressed. Very impressed. It's the best handgun sighting system that I have used yet.
SOURCE:
http://www.10-8consulting.com/108performance.php