Discussion Starter
·
#1
·
Well, after bugging the tar out of you guys, I finally picked up some different sights. Thanks to Jester and the MP Store, I received them fast.
I am not much of a review writer, but I will put down some thoughts. My last gun was a Glock G27 that had the regular Trijicon 3 dot set up. I have been reading about those who prefer just the front sight to have the tritium insert, so I thought I would try that this time around. A friend here at work in the machine shop help me install them yesterday. I really like the Warren Tactical sight. It is fast and not distracting. My eyes go right to the front sight
. I am going to give it some time before I say a lot about using only the one dot system in low light. For now, it is interesting. Much different than the 3 dot system!! When using two hands in a draw, I am petty much right on. When just using one hand, I am not always right on. It may be that when they release the Warren Tactical with the single tritium tube under the notch, I may get that one. But I am just going to give this set up some time. I really think that with some practice it is going to be just fine.
While I was installing the rear sight, I took the opportunity and polished the FP Block. This has helped to smooth the trigger pull. Also, thanks to some help from YukonGlocker , I was able to remove the Striker and polish it up some also. Thanks YG!! This is the furthest I have ever gone into one of my pistols. It was fun. I am going to have to do some more!
Also thanks UPSguy for your help.
Anyway, that is about all I have to say. I do like the sights! They were a good investment.
Ron
Here are some pics. I must say though, that I wish they were better. I have seen other pics posted on these forums of sights and wished that they were better. When I took these pics, I found out that this type of picture is not very easy to take!!
Old Sights.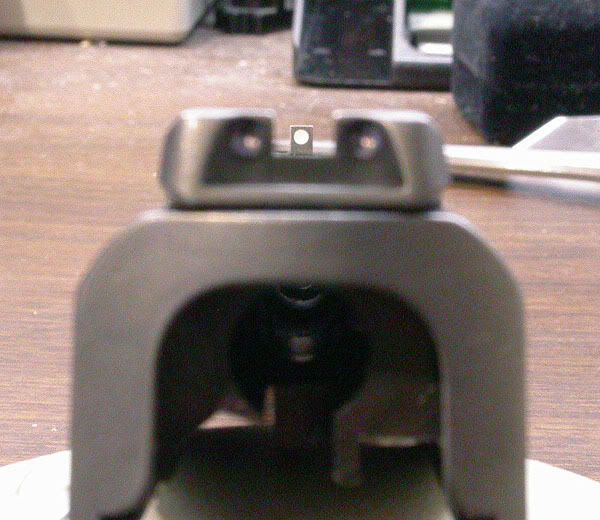 Warren Tactical (plain) Rear + S&W Factory Trijicon Front